---
At South Side Machine Works Inc., we will make your fabrication fast and economical. Our fabrication abilities include;
Large gears, re-rimming of gears, metalizing - all alloys, stress relieving, fractured castings, caster segment housings, and large fabrications up to 50 ton.
If you have a blue print we can fabricate it. If you don't have a blue print, bring in the piece and we will reverse engineer it and provide you with the prints.
We will get the job done right and deliver it to you "On Time"
---
Caster segment frame being fabricated from scratch and ready for final welding.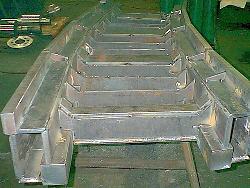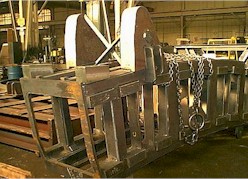 Large press being welded. Burnouts were made on our computerized Burny table. Assembly, final welding, and stress relieving completed. It is then finish machined, the hydraulics installed, and shipped to the customer.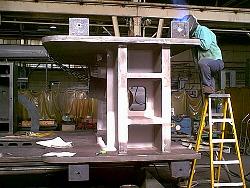 Large gear fabricated at South Side Machine Works Inc. Forged steel outer ring and hub. Stock 1 1/2" steel web. Piece has been stress relieved and finish machining has begun to prepare for gear hobbing.